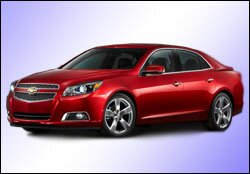 , Chevrolet decided to make some interesting changes to its Malibu sedan in 2014. For example, now a multimedia system of this model can read aloud incoming text messages to you, and even respond to them, but only if you pre-prepared answer. True to prepare in advance the answer will only be possible when the car is not in motion.
addition to model having engine capacity of 2.5 liters and power of 196 horses will be installed "start-stop". Such a system will reduce the consumption of fuel in the car. In city driving savings of 14% and fuel consumption will be 9.4 liters. When driving on the highway and save 6% rate will be 6.5 liters.
In Russia, the Chevrolet Malibu is sold only with an engine having a volume of 2.4 liters. Accordingly, new, fuel-saving, the Russians will not be available.