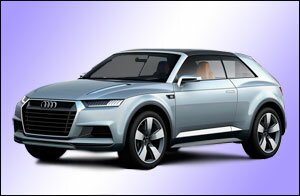 We have previously reported that the company intends to release Audi`s smallest crossover in its lineup Q1. We now know that the company has officially stated that the decision to launch the production of this model.
Producing the smallest Audi will begin in early 2016 in the city of Ingolstadt. The German automaker plans to increase sales in 2020 to 2 million vehicles per year, in particular this should help increase the range of their products from 49 to 60 species. As part of this strategy and has developed a model Q1.
novelty will create based on Volkswagen Polo, its length will be 3.8 meters, and the car will be stripped version with all-wheel drive. Those wishing to buy a SUV should focus on the amount of starting at $ 20,000.
reported that the car will be available with both petrol and diesel 3-liter engine with 90 hp, and the 2-liter turbo engine, 231 hp It is also planned in the future to start producing hybrid Audi Q1.
Now the company produces three car family "Q". It is well known Q3, Q5 and Q7. The most popular of these models is Q5. By mid-autumn 2013 were sold 194.4 thousand of these machines.