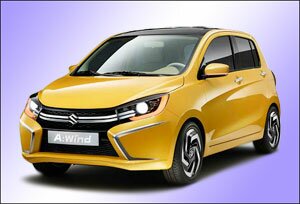 At the motor show in Thailand, the launch of which is scheduled for November 30, the company will officially unveil the automaker Suzuki concept version of the new car in the back of a hatchback. The new model is called A: Wind.
wheelbase new items will be 2425 mm. Moreover, its height is equal to 3600 mm, the width is 1600 mm and the height is 1540 mm. The car will be equipped with a petrol engine with a volume of 996 cubic centimeters. Also on the car will be fitted wheels 16 inch.
interesting colors of the car, it will be represented by only two colors -yellow and blue. When you choose these colors for a reason. Manufacturers believe that the yellow car will remind the buyer of the summer, and the blue of the sky over a tropical beach.
In 2014, scheduled to run A: Wind in production. Hatchback will produce in Thailand.